Mediterranean still claiming migrant lives
Comments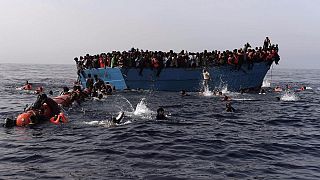 Over 2,100 men, women and children have died in the Mediterranean sea while trying to reach Europe in the early part of 2017.
As many as 1,889 between Libya and Sicily.
UNHCR is concerned about the latest reports of deaths Mediterranean sea.Saving lives must be top priority for all.<a href="https://t.co/HM5R9YzYiX">https://t.co/HM5R9YzYiX</a> <a href="https://t.co/vPQEtuR9gA">pic.twitter.com/vPQEtuR9gA</a></p>— Zoran Stevanovic (zoranmedia) June 12, 2017
The startling figures are published in a report by the International Organization for Migration.
Migrant deaths in #Mediterranean in 2017 pass 2,000 mark on #WorldRefugeeDay after new boat disasters https://t.co/YSJvu12w6W#twitterpic.twitter.com/kenRSl7zrh

— David Hulme (@DrDavidHulme) June 21, 2017
More than 80,000 arrived safely in different parts of the Mediterranean between North Africa and Italy, Turkey, Greece and Spain.
The organisation says as many as 15,000 people have died since the start of the migrant crisis in 2013.