Deadly car bomb hits police station in Somalia
Comments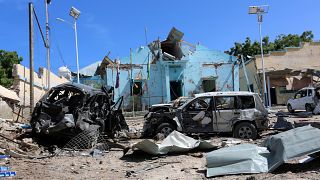 At least four people have been killed by a car bomb in the Somali capital.
The incident took place at Waberi police station, near Maka al Mukaram road, which is the busiest street in Mogadishu.
A Reuters witness saw bodies lying on the ground at the scene as well as ruined cars and damage to the police station.
Previously, al Qaeda-linked al Shabaab has claimed responsibility for gun and bomb attacks in the capital and other areas controlled by Somalia's federal government, but the group has remained silent so far. It wants to force out African Union peacekeepers, oust the Western-backed government and impose its strict interpretation of Islam.
On Tuesday, at least 10 people were killed in a car bomb attack on a government building in the Somali capital which was claimed by the group.