Athens basks in European Music Day
Comments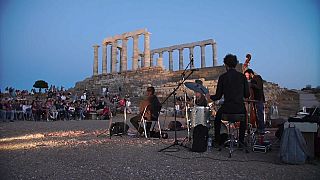 European Music Day is a celebration of music across the continent
In Athens at the Temple of Poseidon at Cape Sounion the concert program was a selection of classical, Byzantine, jazz and traditional vibes.
Temple of Poseidon,Cape Sounion,Attica,Greece pic.twitter.com/HveRVPJqHu

— Ioannis Tz (@tzoumio) June 20, 2017
Yorgos Perot is the founder and coordinator of the Greek Network of European Music Day:
"We mix harmoniously, our heritage and this exceptional music. The program is a musical combination of different periods. There is also nature. It is a unique opportunity for Greeks to promote all these elements at the same time."
The concert was held in a unique environment thanks to the Ephorate of Antiquities of East Attica.
Anastasia Lazaridou is the Head of Ephorate of Antiquities of East Attica:
"We think, it is very important that the official launch of the European Music Day is held is such a unique archaeological site. It is a great joy for us. We hope that all these people here will enjoy it."
The Moon Over The Ancient Temple Of Poseidon – taken by Nikos Karaiskos on June 10, 2017 Athens, Greece. <a href="https://t.co/zdSLQvVz5r">pic.twitter.com/zdSLQvVz5r</a></p>— David Crook (StellarInsights) June 13, 2017
Euronews reporter is Yorgos Mitropoulos:
The 21st of June, the longest day of the year has become the synonym the European Music Day. For 5 days, hundreds of music events are hosted in more than 50 cities around Greece. Yorgos Mitropoulos, from the Temple of Poseidon, at Sounion for Euronews.