Promise of wide consensus on Brexit as Queen opens parliament
Comments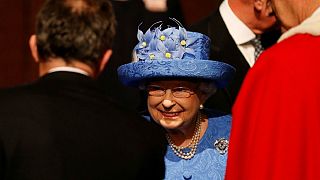 Making a success of Brexit is a key priority for Theresa May's minority government, said Queen Elizabeth during her speech to officially open the UK parliament.
The address, given by the Queen but written by the government, also revealed the Conservative administration will seek the "widest possible consensus" on EU exit terms.
There will also be moves to introduce a raft of measures to bring EU law into British law, in areas such as immigration, trade, customs and fisheries.
But the speech made no mention of key planks of the Conservative's election manifesto, including a vote on lifting the ban on foxhunting.
Watch: Queen's Speech 2017
The State Opening of Parliament was held even though May is still negotiating a deal for a minority government.
Her team is in talks with the Northern Irish DUP party about propping up a May government with a "supply and confidence" deal.
On Brexit, the Queen said: "My government's priority is to secure the best possible deal as the country leaves the EU.
"My ministers are committed to working with Parliament, the devolved administrations, business and others, to build the widest possible consensus on the country's future, outside the EU."
A plan to set up an anti-extremism commission was also announced as part of the fight against terrorism.
The Queen said: "In the light of the terrorist attacks of Manchester and London, my Government's counter-terrorism strategy will be reviewed to ensure that police and security services have all the powers they need, and that the length of custodial sentences for terrorism sentences ares sufficient to keep the population safe."
The crackdown on extremism will include the internet.
Other legislative policies include increasing the "national living wage", modernising the court system, mental health reforms and addressing the gender pay gap.
Absent from the opening of parliament was Prince Philip, the Queen's 96-year-old husband, who has been admitted to hospital for an infection.