Colombian wealthy shoppers targeted in bomb attack
Comments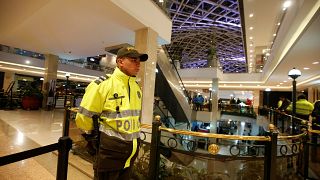 At least three women have been killed and nine others injured in a bomb attack in Colombia's capital, Bogota.
Police say an explosive device was hidden in a toilet at the Andino shopping centre in an exclusive area of the city.
The mall was packed with people buying gifts ahead of Father's Day celebrations.
Bogota mayor Enrique Penalosa confirmed that one of the casualties is 23-year-old French woman who was in the country to work with disadvantaged school children.
"Her name is Julie Huynh and she came to do some social work at a school in a Bogota neighbourhood for six months. This cowardly act has hurt us very much," said Penalosa.
The young French woman's mother is thought to be among those hurt.
A peace accord signed last year with FARC  Revolutionary Armed Forces of Colombia , the country's biggest guerrilla group, raised hopes bomb attacks might cease.
For now authorities say no other militant or insurgent group has admitted responsibility.