Basque bullfighter 'gored to death'
Comments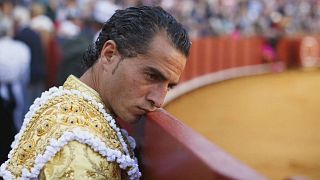 Basque bullfighter Ivan Fandino has reportedly been gored to death after stumbling on his cape in the ring in southwestern France.
The 36-year-old Spaniard was rushed to hospital and suffered two cardiac arrests in the ambulance, medical sources told AFP news agency.
He died on arriving at hospital, added the source.
Fandiño was gorged while in the ring with one of his compatriot Juan del Alamo's bulls. He reportedly got his feet caught in his cape, forcing him to stumble on the ground, where he the bull's horns made contact with one of his lungs.
Fandiño is the second Spanish bullfighter to be killed in the ring in the last twelve months. Victor Barrio, 29, died at Teruel, in central eastern Spain in July last year.
The last bullfighter to die in France was in Beziers in 1921.
Bullfighting remains extremely popular in Spain with 394 corridas organised in 2015, according to the latest official figures.
Critics say the blood-soaked events are barbaric and the number of animal associations opposing the practice is on the rise, according to AFP.
Bullfighting was declared legal in France in 2012 after animal rights groups tried to get the country's Constitutional Court to ban it.