Cuba criticises Trump's policy rollback
Comments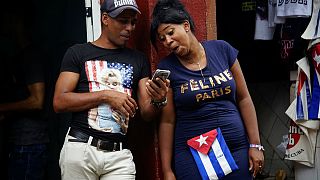 Cuba has criticised the American administration's decision to backtrack on policy changes negotiated by former US President Barack Obama.
However, the island nation says it will continue to cooperate with its northern neighbour.
A statement on Cuban national television said:
"The Cuban government denounces the new measures which prolong the blockade. They are destined to fail as has been repeatedly demonstrated in the past. They will not manage to weaken the Revolution, nor defeat the Cuban people."
US President Donald Trump's announcement that certain travel and trade constraints would be reinstated has angered some and prompted protests. One man questioned his motives:
"Now what's going to happen is you're going to have Americans that have to go with US-sponsored organizations that are going to do business with the military sponsored tourism industry so who is this policy really helping?", he asked.
But some in the Miami neighbourhood of Little Havana welcomed the move.
"He's going to enforce the embargo. The embargo has never been enforced so at least it's a start, at least it's a start that he asked to enforce the embargo", one woman insisted.
Trump has labelled the initial deal "completely one-sided." However, he says the US will maintain key diplomatic and commercial links with Cuba.