Anger erupts over London tower block fire
Comments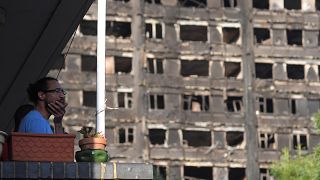 Protests have taken place across London over the deadly fire at Grenfell tower block on Tuesday.
Anger erupted as demonstrators tried to enter Kensington and Chelsea council town hall, headquarters of the authority in charge of maintaining the building.
In the face of continued criticism, Theresa May paid another visit to the site to meet residents but was rushed away under heavy police guard as locals vented their fury, shouting "shame on you" and "coward".
Other demonstrators headed for Downing Street to call on the prime minister to step down over her response to the blaze.
#JusticeForGrenfell protestors arriving at Downing Street.
I am with you every step of the way.pic.twitter.com/K3dH5441JU

— James Melville (@JamesMelville) June 16, 2017
Why are these displaced people not in hotels.. Totally disgraceful… Sort it out theresa_may</a> they are on the floor <a href="https://twitter.com/hashtag/JusticeForGrenfell?src=hash">#JusticeForGrenfell</a> <a href="https://t.co/Or4zkJCePA">pic.twitter.com/Or4zkJCePA</a></p>— Karen Mason (KarenWires2012) June 16, 2017
May, already under pressure over her botched snap election, promised help with what she described as a "comprehensive package of support." She has promised to set up a public inquiry and pledged 5 million pounds to help the victims.
"It's absolutely horrifying and I've been hearing stories today from people about their experiences. I've also been hearing from the local community about the issues and concerns that they have. Now the government is making five million pounds available as emergency funds for people who need just to get money to be able to buy the normal things of everyday life," said May.
The official death toll now stands at 30 but more than double that number are expected to have been killed.
Work is still ongoing to locate and recover those who have perished.
Investigators have ruled out foul play but for the survivors, recriminations will continue over who was responsible.
LISTEN & SHARE.. Had goosebumps from just recording. So much emotion, pain & passion from his voice. #GrenfellTower#JusticeForGrenfellpic.twitter.com/WL5SiODOWj

— Ahmed Faid (@afaidd) June 16, 2017