Woman found guilty for encouraging her teen boyfriend's suicide
Comments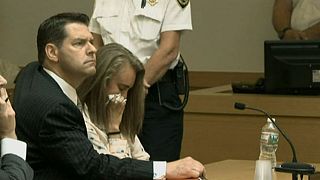 A 20-year old woman in the US state of Massachusetts has been found guilty of involuntary manslaughter for encouraging her teenage boyfriend's suicide.
Michelle Carter was tried in a juvenile court without a jury and could face as many as 20 years in prison when she's sentenced in early August.
Three years ago, Conrad Roy III, 18, parked his vehicle in a shopping centre car park where he contemplated committing suicide by inhaling carbon monoxide.
Carter, then 17, coaxed Roy to follow through with his plan telling him via text message to get back into his Ford truck after he allegedly admitted he felt scared to take his own life.
In a text message sent to friend Samantha Boardman, Carter allegedly wrote Roy's death "is my fault like honestly I could have stopped him I was on the phone with him and he got out of the [truck] because it was working and he got scared and I f——— told him to get back in."
Although Joseph Cataldo, the lawyer representing Cater, said Roy had attempted suicide in the past and had evidence he had researched ways to take his life including "suicide by cop", the court found Carter failed to give Roy "simple additional instruction" for him to exit his vehicle.
The court found Carter's encouragement liable for Roy's death despite her not being physically present at the time.
The prosecution argued Cater, who herself suffers from depression, yearned for the attention of her friends and wanted to use Roy's suicide to play the role of a "grieving girlfriend."
Carter and Roy met through family friends in 2012 in Florida and struck a deep relationship via social media and through phone text messages.
Dr. Peter R. Breggin, a psychiatrist and expert in psychopharmacology, who testified on behalf of Carter, said Carter was constantly trying to help people around her and consistently advised Roy not to take his life, according to the New York Times.
Breggin said Carter's demeanour changed as a result of a switch in antidepressant medication which deluded her into thinking helping Roy kill himself was the right thing to do.
Shortly after Roy's body was found, Cater presented herself as an anti-suicide advocate and arranged a fund-raising baseball tournament in Roy's honour.