International leaders debate energy and economy in Astana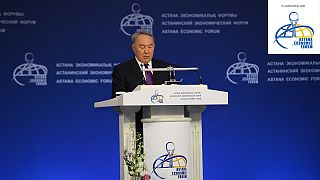 Representatives from the world's economic community, including heads of state, business leaders and figures from the scientific world, come together this week in the capital of the Republic of Kazakhstan for the annual Astana Economic Forum.
Watch the plenary session – with the participation of the President of the Republic of Kazakhstan Nursultan Nazarbayev – live on this page on June 16 from midday CEST
AEF 2017, being held June 15 and 16, is an opportunity for international dialogue, discussion and brainstorming on a range of economic issues facing Central Asia and the rest of the world.
Since it began 9 years ago the forum has tackled a wide range of economic issues, including globalization, risk management and infrastructure. This year AEF participants will be addressing "New energy – New Economy".