Can World Number One Andy Murray win Wimbledon again?
Comments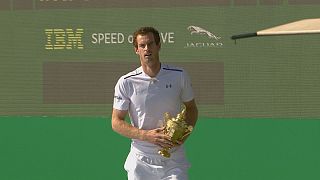 As Wimbledon, the world's most important tennis championships approaches, Euronews caught up with Britain's Andy Murray who won the men's singles there last year.
It's almost time.

The Championships 2017. A Year in the Making…#Wimbledonpic.twitter.com/XrHt4iYW49

— Wimbledon (@Wimbledon) June 16, 2017
He's currently ranked World number one and was the first Brit to win the title since 1936.
He also won Olympic Gold in 2016, but this year Murray has two tennis giants to contend with: Rafael Nadal and Roger Federer.
Last week Nadal won the French Open for an incredible tenth time, but clay, not grass, is his favourite surface.
Federer beat Nadal at the Australian Open back in January, the 37th time they have played in their 13 year-old rivalry – perhaps the greatest rivalry ever in tennis.
Three of them were played on grass with Federer winning two of them.
This year Federer skipped the French Open to focus on his grass game in the run up to Wimbledon.
But none of this seems to have fazed Murray.
''I think pressure is a good thing. For me I like being nervous, I find that it helps me concentrate better. It can obviously be stressful at times but once you get out there on the court, nerves and pressure are a good thing," he said.
"I feel like it helps you to perform better once you've experienced it enough times. Hopefully, that will be the same again this year.''
Murray spoke about losing to Federer at Wimbledon in the final in 2016. He had already lost to Federer the year before in the semi-finals.
"It was a tough loss for me that one. It was one of the hardest matches to get over in my career. It was the fourth time I had lost in a Grand Slam final."
Who else cant wait for another Federer vs. Murray rematch? #Wimbledonpic.twitter.com/3fj7zqUk81

— Tennis Kits (@TennisKits) June 13, 2017
And Murray commented on another emotional period in his life: being caught up in a deadly shooting in Dunblane primary school in Scotland in 1996.
Murray was at school with his older brother and was on his way to the gym where gunman Thomas Hamilton started shooting, killing 16 pupils and one teacher.
It was the deadliest mass shooting in Britain's history and Hamilton was also known to the Murray family.
"Everybody deals with problems differently but I think the best thing to do is to talk about it. You know you have to discuss it. It's important to talk about your problems and not bottle it up. That can make things more difficult," Murray said.