White House under siege in Trump-Russia probe
Comments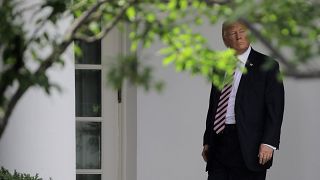 Euronews Washington Correspondent Stefan Grobe reports on the latest fallout from the Trump-Russia probe:
"The Special Counsel's focus on the possible obstruction of justice of Donald Trump is the biggest legal turning point in the ongoing Russia investigation and a real threat to Trump's presidency.
"Remember in the Watergate scandal it was the cover-up that brought Richard Nixon down, not the initial crime.
"And it doesn't help the Trump administration that the Special Counsel was appointed by the Trump administration.
"Trump himself keeps freaking out whenever there are doubts about his political legitimacy.
"On Twitter he attacked the investigators almost as enemies.
"Such a rant will only divide the country further, energize Trump's opponents and make bipartisanship in Congress impossible. The White House is under siege and America in a sad state of affairs."