Mis-spelled Mexican beer mocks Trump
Comments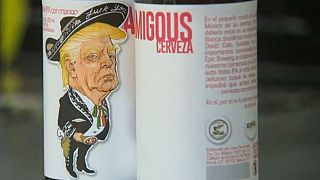 Mexican and U.S. brewers have reinvented Donald Trump as a gun-slinging mariachi to promote a new beer celebrating cross-border cooperation.
Decked out in a sombrero, a frowning Trump adorns the label of the new "Amigous Cerveza" craft beer. Its makers thought up the name as a rebuke of the U.S. president's divisive campaign trail rhetoric against Mexico and his pledge to build a border wall.
The real estate tycoon turned out to be good for business.
Going on sale last month, the beer that misspells "amigo" to poke fun at American pronunciation of the Spanish word for friend, surprised its creators: it sold out the original batch of 1,200 bottles and 400 litres on tap in the very first week.
A kind of New England Indian Pale with a dash of mango, the beer was dreamt up by Cru Cru, Mexican partner Error de Diciembre and Epic Brewing of the United States shortly before Trump's election victory on Nov. 8.
Trump sparked dismay in Mexico by saying the country was sending rapists and drug runners across the border, and angered business groups by threatening to tear up a joint trade deal.
The beers makers say the cross-border beer demonstrates a spirit of collaboration between Mexico and the United States are Trump's rhetoric on the campaign trail comparing Mexican migrants to "rapists" and "criminals".
In his guise as a traditional Mexican folk musician, Trump's trousers are held up with a swastika belt buckle, and the rear label of the beer informs the reader that the 71-year-old New Yorker belongs "in a mad house, not the White House."