Car bomb, gunfire and hostage-taking rock Mogadishu restaurant
Comments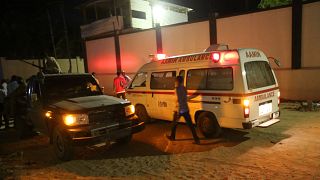 A suicide bombing and gun attack on a popular restaurant of the Somali capital Mogadishu early on Thursday killed at least 17 people, including foreigners.
The Al Shabab Islamist militant group claimed responsibility, saying one of its fighters rammed a car packed with explosives onto the gates of a posh hotel.
A photograph uploaded to social media by Abdulaziz Billow Ali showed the area affected by the explosion engulfed in flames, while loud gunfire can be heard in subsequent videos.
The explosion caused a huge inferno inside the famous Pizza House Restaurant. Sporadic gunfire can still be heard #Mogadishu#Somalia. pic.twitter.com/gtilI4hQGS

— Abdulaziz Billow Ali (@AbdulBillowAli) June 14, 2017
Al Shabab claimed the attack in #Mogadishu. pic.twitter.com/9nscf9fWhF

— Ruslan Trad (@ruslantrad) June 14, 2017
Gunmen then stormed the neighbouring restaurant and held dozens of people hostage inside.
Special forces rescued at least 50 hostages, according to the state news media, but many were wounded in the attack, which dragged on late into the night.
One witness said the gunmen were dressed like soldiers. They also cut off electricity to impede the siege by security forces.
Its almost midnight in #Mogadishu and heavy exchange of gunfire can still be heard at Pizza House. Gunmen still holed up inside. #Somaliapic.twitter.com/heb2uwl8AA

— Abdulaziz Billow Ali (@AbdulBillowAli) June 14, 2017
Its already past dusk & gvt forces are still engaging gunmen in heavy gunfire. Smoke has engulfed z sky near the scene of z blast #Somaliapic.twitter.com/BJRCB9kzP1

— Abdulaziz Billow Ali (@AbdulBillowAli) June 15, 2017
Stepping up attacks
Al-Shabab last year became the deadliest Islamic extremist group in Africa, with more than 4,200 people killed in 2016, according to the Washington-based Africa Center for Strategic Studies.
The group has carried out a campaign of suicide bombings in its bid to topple the Somali government and impose its strict interpretation of Islam. It often targets high-profile areas of Mogadishu, including hotels, military checkpoints and areas near the presidential palace. It has vowed to step up attacks after the recently elected government launched a new military offensive against it.
They have also been behind attacks in neighbouring Kenya, including the Westgate Mall siege in Nairobi in 2013. Deadly attacks on hotels popular with foreigners have become one of their trademarks.