Turkish opposition MP gets 25-year jail term for 'spying'
Comments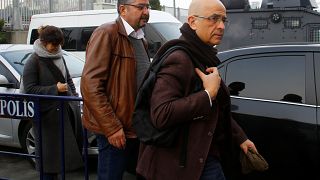 A Turkish court has sentenced a former journalist and prominent lawmaker from the main opposition party to 25 years in prison for revealing state secrets.
Enis Berberoglu was accused of giving the secular Cumhuriyet newspaper a video purporting to show Turkish intelligence services transporting weapons into Syria.
"The defendant has committed the crime of disclosing information that should remain secret for state security, domestic and external benefits, with the aim of political and military espionage," read the court document seen by Reuters.
Berberoglu's Republican People's Party (CHP) called the verdict an attempt to intimidate the opposition.
The party has called for a protest in Ankara on Thursday (June 15), as well as a march to the Istanbul prison where Berberoglu is now jailed.
CHP MPs walked out of the assembly chamber en masse in protest at Enis Berberoğlu's conviction, as the top-right corner of this image shows. pic.twitter.com/aUZIOJSnYf

— JamesInTurkey.com (@jamesinturkey) June 14, 2017
Decision to arrest #EnisBerberoğlu is given to intimidate the opposition, says deputy chair of #Turkey's #CHPhttps://t.co/a0CwCh84Lqpic.twitter.com/BxMKU0n36f

— BirGün Daily (@BirGunDaily) June 14, 2017
"Justice slaughtered"
Speaking at the Istanbul courthouse shortly before his conviction on Wednesday, Berberoglu said: "Numerous times we have seen justice slaughtered in this building, which is a courthouse in name only, and has nothing to do with justice."
Cumhuriyet's former editor-in-chief Can Dundar and Ankara bureau chief Erdem Gul are also on trial for running the report based on the leaked video in May 2015.
Last year, they were each sentenced to at least five years in jail for revealing state secrets in a related case, and the prosecutor is now seeking an additional 10 years in prison for the two over the report on the trucks.
The government has confirmed the trucks in the footage belonged to secret services but said they carried aid for Turkmens in Syria, not weapons for Islamist rebels.
President Recep Tayyip Erdogan has accused Cumhuriyet journalists of undermining Turkey's reputation and vowed Dundar would "pay a heavy price".