US basketball star Rodman flies to North Korea
Comments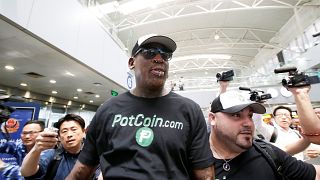 Retired US basketball star Dennis Rodman is off to North Korea for another visit.
The ex-NBA player was mobbed by reporters at Beijing International Airport.
Asked about Americans detained in North Korea, Rodman said he was going as a private citizen.
"I'm just trying to open the door," he said. "Open the door, that's it."
"My purpose is to go over there and see if I can keep bringing sports to North Korea. That's the main thing."
Rodman met the North Korean leader Kim Jong Un on previous trips to Pyongyang.