Puerto Ricans ask for US statehood
Comments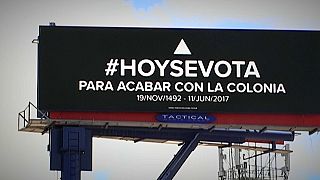 People in the US territory of Puerto Rico have overwhelmingly backed a referendum to become the 51st state of the US.
However, only 23 percent of eligible voters turned out to cast a ballot and the bid would struggle to get support in Congress.
One resident who voted for statehood, Jose Alvarez, told reporters: "Statehood will solve some problems but we as a nation have to assume responsibility and make decisions, be more hands on."
College student Amalia Diaz said: "Statehood would make for a better future for Puerto Rican families. Students leave after they graduate because there aren't opportunities."
Some 97 percent of those who voted backed statehood, but the referendum was boycotted by the two main opposition parties.
There were three options put to voters: become a US state, remain a territory or become independent.
This is the fifth time since 1967 that this economically-struggling island has held a referendum on the issue.