Watch: TV star Hammond crashes supercar in Switzerland
Comments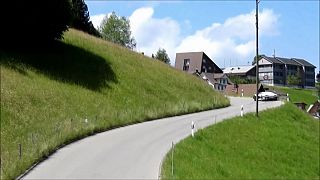 This is the moment TV star Richard Hammond crashed while filming for his show The Grand Tour.
The footage (see video, below) shows the electric supercar skidding out of control on a bend in Switzerland.
The car caught fire and was reduced to a twisted, blackened mess.
It was the biggest crash I've ever seen and the most frightening but incredibly, and thankfully, Richard seems to be mostly OK.

— Jeremy Clarkson (@JeremyClarkson) June 10, 2017
Hammond was airlifted to hospital with a fractured knee.
The 47-year-old nearly died 11 years ago after crashing a Vampire dragster while filming for Top Gear.
He was in a coma for two weeks but made a full recovery.