Cleveland Cavaliers avoid elimination from NBA finals
Comments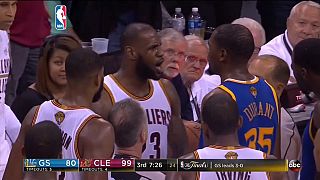 The Cleveland Cavaliers have avoided elimination from the NBA finals, ending Golden State's shot at a perfect run through the playoffs with a 137-116 win over the Warriers.
Golden State's chance to celebrate their second NBA title in three seasons was put on ice.
Lebron James was on top form, scoring 31 points, nd Kyrie Irving scored a game-high 40 points as the defending champions made it 3-1 in the best-of-seven series.
MVP Stephen Curry had his worst game of the finals scoring a mere 14 points.
Match number 5 is in Oakland on Monday (June 12).
"Golden State Warriors/Cleveland Cavaliers NBA Finals Game 4 Analysis" by rich_condon</a> <a href="https://t.co/aRvq1f5W7A">https://t.co/aRvq1f5W7A</a></p>— Lance Roberson (lance_972) June 10, 2017