Warriors within reach of NBA title
Comments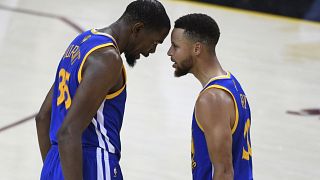 The Golden State Warriors have pulled off a stunning third-straight-win over the Cleveland Cavaliers, taking them to within reach of victory in the NBA finals.
Le Bron James' 39 points weren't quite enough. The defending champions fell apart in the closing minutes of the game, allowing their opponents a 15th consecutive playoff win.
Kevin Durant silenced the crowd with a pull-up three-pointer with just 45 seconds to go, putting the Warriors ahead for the first time since late in the third quarter. They went on to win 118-113 to go 3-0 up in the best-of-seven championship.
The teams will go head-to-head again on Friday (June 9), when a victory for the top-seeded Warriors would see them celebrate their second NBA title in three seasons.