NATO flies Montenegro flag following accession
Comments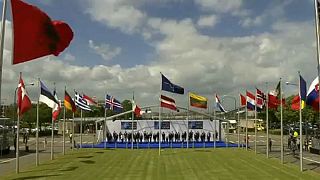 NATO has celebrated Montenegro's accession to the Western alliance with a flag raising ceremony its new Brussels headquarters.
The Brussels event was preceded by joint statements by NATO's secretary general and the president of Montenegro.
"It is just 11 years since your country regained independence and your accession to NATO will strengthen that independence. I want to congratulate the government and the people of Montenegro for everything you have achieved," said NATO Secretary General Jens Stoltenberg.
"With NATO membership our future will be stable, secure and prosperous and we will make decisions about the most important issues within the strongest, the most organised and most efficient alliance in the history of mankind."
Montenegro is the 29th member of the North Atlantic Treaty Organization.
Western Balkan Common Market
The EU hopes that Montenegro will be one of six nations to create a Western Balkan common market.
The Western Balkan common market, which would remove barriers to trade, introduce standardised rules for businesses and lift obstacles to working across the region, would build on an existing regional free-trade accord, said European Commissioner Johannes Hahn, who oversees EU membership bids.
"We hope to get endorsement for this at the Trieste summit," Hahn said of the next annual gathering of Western Balkans leaders with top EU officials.
"With the political will, we can have this done within a year," he told reporters, adding that the European Commission would help the process.
The six Western Balkan nations — Albania, Bosnia, Kosovo, the former Yugoslav Republic of Macedonia, Serbia and Montenegro — all hope to eventually join the European Union.
#Montenegro's flag was raised at #NATO today in a special ceremony to mark its accession to the Alliance https://t.co/EdlSimGbdR#WeAreNATOpic.twitter.com/H7y2ovskrd

— Carmen Romero (@NATORomeroC) June 7, 2017