UK: PM May under pressure over security as election nears
Comments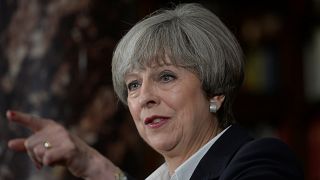 With just three days to go until Britain's general election, the London terror attack has sparked a campaign row over security.
Opposition Labour Party leader Jeremy Corbyn has backed calls for Prime Minister Theresa May's resignation over police cuts when she was Interior Minister.
With May's opinion poll lead narrowing, the focus on her security record is delicate for the Conservative leader.
According to official data, officer numbers decreased every year that she was in the post, from 2010 to 2016. The number of authorised firearms officers in England and Wales fell to just under 5,700 in 2016 from nearly 7,000 in 2010.
WATCH: Jeremy Corbyn calls for Theresa May to resign over police cuts that have put Britain at risk of terrorism pic.twitter.com/quyjNBgbl5

— Scott Nelson (@SocialistVoice) 5 juin 2017
Asked whether she regretted presiding over the cuts, May has insisted that London's Metropolitan Police was well resourced and had powerful counter-terrorism capabilities.
"We have protected counter-terrorism policing budgets, we have also provided funding for an increase in the number of armed police officers," she said.
She has tried to deflect the pressure onto Corbyn, a pacifist who has opposed some security legislation in parliament and expressed reservations in the past about police responding to armed attackers with "shoot-to-kill" tactics.
Keeping our country safe should be the number one priority for any Prime Minister and any Government. pic.twitter.com/8uysNnVIep

— Theresa May (@theresa_may) 5 juin 2017
Corbyn sought to end that controversy on Sunday by stating that he backed the "full authority for the police to use whatever force is necessary to protect and save life as they did (at Borough Market), as they did in Westminster in March".
Ministers and London Mayor Sadiq Khan were among those attending a top-level security meeting on Monday morning, with the UK jittery having suffered three terror attacks in as many months, two of them in the capital.
Sadiq Khan: This sickening act has nothing to do with the Islam I know https://t.co/1EWHWAZFcy

— Evening Standard (@EveningStandard) 5 juin 2017
The COBRA emergency response meeting was chaired by May.
"The national threat level remains at severe," she said after the talks.
"That means that a terrorist attack is highly likely. The police have reported that they have put additional security measures in place to protect the public and provide reassurance and this includes additional security measures at a number of bridges in London".
Drawing attention to the fact that Saturday's deadly attack impacted victims of several nationalities, May said: "This was an attack on London and the United Kingdom, but it was also an attack on the free world."
Corbyn is also putting pressure on the PM amid claims that a report into alleged Saudi funding of UK extremist groups has been 'suppressed'.
with Reuters