Montenegro becomes 29th NATO member
Comments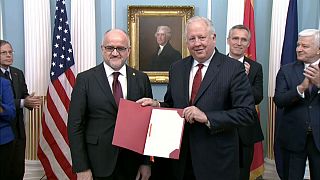 The North Atlantic Treaty Organisation has a new member. Tiny Montenegro, once part of the communist former Yugoslavia.
became the 29th member at a ceremony in Washington. attended by Montenegro's Prime Minister and Foreign Minister.
"Montenegro's accession sends a signal to other states that seek membership, that if a country truly reforms, if it promotes democracy,
strengthens the rule of law, modernises its armed forces and contributes to our collective defence, it too can join the alliance,"
said NATO Secretary General Jens Stoltenberg.
Russia has been lobbying very hard to attempt to dissuade Montenegro from joining and was accused of being directly behind a foiled plot to take over
parliament and assassinate the former prime minister and president Milo Đukanović last October.
The pro-Russian opposition Democratic Front accuses the government of fabricating the affair.
Russia has denied any involvement in Montenegro's internal politics.