Prime Minister Theresa May: 'enough is enough'
Comments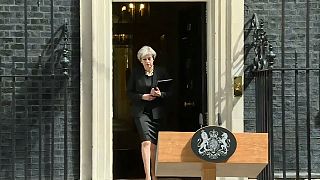 Theresa May has vowed to fight the "evil ideology of Islamist extremism" following the terror attack in London which left seven people dead, declaring "enough is enough".
Speaking in Downing Street, the British Prime Minister called for unity, saying British values were "superior to anything offered by the preachers and supporters of hate".
May warned the country faced a "new trend" of terror and a threat from copycat attacks as extremists are inspired by one another.
Defiant and insistent, she outlined four areas for change:
defeating Islamist extremism
regulating cyberspace worldwide
depriving terrorists of "safe spaces" in the UK and abroad
reviewing Britain's counter-terrorism strategy and the length of custodial sentences for terror offences
She praised the emergency services for their quick response and courage on Saturday evening, but said many of the 48 injured victims have "life-threatening conditions".
Outlining her proposed strategy following the recent spate of attacks, May said: "As terrorism breeds terrorism and perpetrators are inspired to attack, not only on the basis of carefully constructed plots after years of planning and training, and not even as lone attackers radicalised online, but by copying one another and often using the crudest of means of attack."
In light of the new type of threat, May said things cannot continue "as they are".
She said that although the recent attacks were not connected, "they are bound together by the single evil ideology of Islamist extremism that preaches hatred, sows division and promotes sectarianism".
She said the terrorists' ideology was a "perversion" of Islam that will only be defeated by making them understand that "our values – pluralistic British values – are superior to anything offered by the preachers and supporters of hate".
May went on to say the internet needs to regulated more to prevent the spread of extremism around the world.
She also vowed to clamp down on "safe spaces" that harbour terrorism in the UK and abroad.
She said: "Yes, that means taking military action to destroy Isis in Iraq and Syria. But it also means taking action here at home.
"While we have made significant progress in recent years, there is – to be frank – far too much tolerance of extremism in our country."
Finally, she called for a review of the country's terror defence, saying, "we have a robust counter-terrorism strategy, that has proved successful over many years".
"But as the nature of the threat we face becomes more complex, more fragmented, more hidden, especially online, the strategy needs to keep up.
"So in light of what we are learning about the changing threat, we need to review Britain's counter-terrorism strategy to make sure the police and security services have all the powers they need.
"And if we need to increase the length of custodial sentences for terrorist-related offences – even apparently less serious offences – that is what we will do."
May said society should continue to function and people should go about their daily lives, but people "must pull together".
"Since the emergence of the threat from Islamist-inspired terrorism, our country has made significant progress in disrupting plots and protecting the public,' she said.
"But it is time to say `Enough is enough'."