Greek police smash migrant smuggling ring
Comments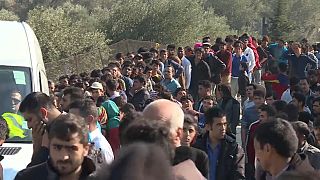 Greek police say they have smashed a major people smuggling ring operating out of the country.
The organised criminal gang, said to include six Afghans and a Sudanese, is accused of helping migrants enter other EU countries and Canada illegally.
Depending on the destination, those trying to get out of Greece are believed to have paid the group anything up to 16,000 euros for high quality travel and identity documents.
Ioanna Rotziokou, a spokeswoman for the Greek police, said: The traffickers we've arrested provided irregular migrants with fake or stolen passports to facilitate their transfer by regular flights from airports.''
Investigations revealed the gang had been operating out of Athens and northern Greece for two years.
For refugees, the only legal way out of Greece is through an EU relocation programme.
From the Greek capital Euronews' Michalis Arampatzoglou said:''More than 60,000 migrants and refugees remain in camps in Greece after border closures across the Balkans. The slow progress of EU's relocation programme makes migrants and refugees more vulnerable to exploitation from the smuggling networks.''