Pro- and anti-Trump marches grip the US
Comments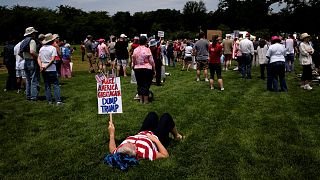 Protesters have gathered in more than 130 cities across the United States to call for an impartial investigation into allegations that Donald Trump's campaign team colluded with Russia to influence last year's presidential election.
Protesters on the "March for Truth" want an independent commission to supervise the inquiry.
They say the four ongoing Congressional hearings into possible links between Trump and Moscow should be free from undue influence.
The US president's supporters were also out in force.
For them, Trump can do no wrong.
"I'm here to support my president. He's supporting me. He's in for jobs, jobs, jobs, he is in to protect this country, to get our defence going properly, we got out of the Paris agreement, which I agree with 100%," said one of Trump's supporters.
Trump has rejected allegations of collusion. He has dismissed claims that Russian President Vladimir Putin sanctioned a campaign aimed at disrupting the US election last November. Putin says there is no evidence of Kremlin involvement.