Ai Weiwei's ''Maybe, Maybe Not'' exhibition opens
Comments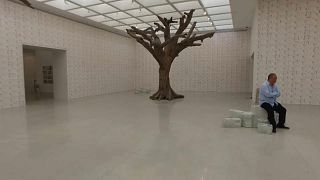 Chinese dissident artist, Ai Weiwei has struck a hopeful note for humanity with his new exhibition at Jerusalem's "Israel Museum".
The exhibition, ''Maybe, Maybe Not", which is his first in Israel, gathers a series of his installation works.
Weiwei wants countries to come together to deal with the ongoing refugee crisis, an issue central to his work in recent years.
The artist and activist said:"Humanity always will win. And because we are human we know what is painful, what we like as comfort, as safety and this is the foundation of community and a nation. I don't think this kind of segregation and hatred can win."
Weiwei was in Gaza last year filming a documentary about refugees called "Human Flow". That is due for global release late this summer.
''Maybe, Maybe Not'', meanwhile, runs until the end of October.