Knitting beats gang culture in South Africa
Comments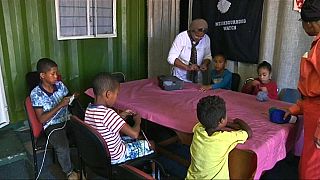 In South Africa, knitting is being used to beat gang culture.
Armed with nothing more than wool and needles, grandmother Connie Abrahams is helping local youngsters knit their way to a better life.
The Young Knitters club offers an alternative sense of community to the scene on the streets.
"There's always gang violence here. Always fighting in the road. Always people fighting with one another. But the reason actually why I am here is to keep the children away from danger, this is like a little safe haven for them," organiser Connie Abrahams says.
Despite its humble origins, the programme has been a success.
Connie has mentored more than 80 boys and girls.
The children are not the only ones to benefit.
The woolly garments the youngsters make are handed out to babies and the elderly.