Baby hippo Fiona makes media splash
Comments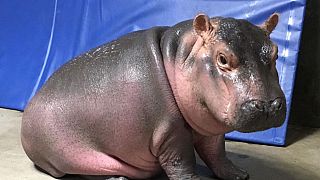 She was already a social media sensation.
Now Fiona the hippo, whose fight for survival enthralled online viewers worldwide, has made her first public appearance in front of journalists at Cincinnati Zoo.
She splashed around in a pool on Wednesday in a clear sign that her health problems are now water under the bridge.
Fiona has started to explore the outdoor habitat after hours. She's not ready for her public debut but it's a step in the right direction! pic.twitter.com/Pt1owh5YYX

— Cincinnati Zoo (@CincinnatiZoo) 31 mai 2017
Fiona can hold her breath for up 2 min.! She naps in the large pool and uses the hippos unique ability to surface for air without waking up. pic.twitter.com/4VUBDBdGIu

— Cincinnati Zoo (@CincinnatiZoo) 23 mai 2017
Born six weeks early in January, underweight and dehydrated, Fiona was treated by doctors at a children's hospital.
Online viewers followed her progress via updates from the US zoo, which made headlines a year ago when Harambe the gorilla was shot dead after a child fell into his enclosure.
Fiona is playing with her favorite otter enrichment toy for #WorldOtterDay! Like river otters, hippos spend time both in & out of the water pic.twitter.com/VcsswGpHSJ

— Cincinnati Zoo (@CincinnatiZoo) 31 mai 2017
This story has a happier ending. Fiona is now making a splash at around 120 kilos, which is well on the way to a normal hippo weight.
with Reuters