Greek former leader remembered at service
Comments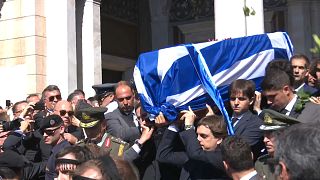 Former prime miniser Konstantinos Mitsotakis has been remembered at a service in Athens.
The 98-year-old conservative whose political career spanned more than half a century died on Monday.
Politicians were among those who paid their respects, inlcudng his son Kyriakos, leader of the opposition party New Democracy.
Prime Minister in the early 1990s, Mitsotakis was both revered and loathed for his early calls for austerity.
Hundreds of supporters queued outside Athens's Metropolitan Cathedral where his body lay in state.
One said: "Its an historic moment, he was the prime minister of the truth, and if we had implemented what he was saying 20 years ago, our country would be very different from today".
Another added: "He was a great man, I feel happy that I followed him and Greece would have been different if we had followed his steps"
Τhe entire greek political world also attended to say farewell.
The burial will be held on Thursday at the former Prime Minister's hometown of Chania in Crete.