Moscow court hears Usmanov v Navalny defamation case
Comments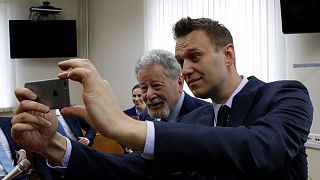 A Moscow court has begun hearing a defamation case brought by one of Russia's richest oligarchs against Alexei Navalny.
In an investigation into Prime Minister Dmitry Medvedev's alleged secret wealth, the opposition activist made a link with transactions by several billionaires including Alisher Usmanov.
Navalny, who has organised anti-corruption protests attracting thousands of people, told reporters that a request to summon Medvedev as a witness – and for property deeds to be produced – were both rejected by the court.
"They reject all our requests to summon witnesses and tell us they have nothing to do with the case," he said.
Medvedev has dismissed a report by Navalny alleging corruption as politically-motivated "nonsense".
Usmanov was not in court, letting his lawyers do the pleading. A minority shareholder in Arsenal football club and listed by Forbes as the fifth-richest man in Russia, the tycoon denies the allegations but has clearly been irritated by Navalny's claims.
Earlier this year he published two videos dismissing the activist as a "loser", signing off each time with the words "I spit on you".
#SPORT#OPEN Hearings open in Navalny vs. Usmanov defamation case – CNBC: CNBC Hearings… https://t.co/RuA2w1LUKP

—

OPENN

HQ

NEWS

®™ (@openn_eu) May 30, 2017