Manuel Noriega: CIA agent, dictator, drug trafficker
Comments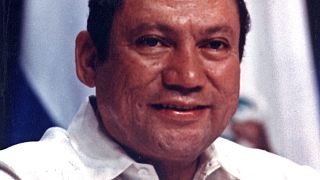 Manuel Noriega: ex-dictator, former-CIA agent, imprisoned for cocaine trafficking,money laundering and for the disappearance of political opponents.
Born in Panama in 1934, Noriega never knew his father, he was raised by an aunt in a rundown neighbourhood in the capital. After graduating from the US School of the Americas with a diploma, he succeeded power to military leader Omar Torrijos after he was killed in a plane crash.
Under Noriega's command, Panama was a US ally in their conflicts with the Contras of El Salvador and Nicaragua. He later found new friends and became a fierce US adversary. In 1988 the United States Drug Enforcement Agency (DEA) accused him of drugs trafficking and money laundering.
In 1989 Noriega nullified the results of a general election and had opposition candidates beaten. Later that year, the Noriega-controlled National Assembly declared the United States and Panama to be in a "state of war".
Then US president George Bush sent troops into Panama.
On December 20, some 27,000 US soldiers seized the capital of Panama in Operation Just Cause, launching a house to house search for General Noriega. He surrendered in January 1990, after being holed up in the Vatican Embassy, no longer able to withstand an assault of loud rock music that Americans blasted at the mission day and night.
He was brought to Miami where he served 20 years in prison for drug trafficking, money laundering, and racketeering. Noriega denied the accusations, and presented himself as an opponent of American Cold War imperialism.
After serving his sentence, he was extradited to France in 2010, where he had been sentenced in absentia to seven years in prison for money laundering.
In December 2011, at age 77, and 22 years after surrendering to US agents, Manuel Noriega, was again extradited, this time to Panama.
He was sentenced to three 20-year prison terms for the disappearance of three political opponents in the 1970s, something that Noriega always denied.