Hang up your Spurs: Tottenham Hotspur build new stadium
Comments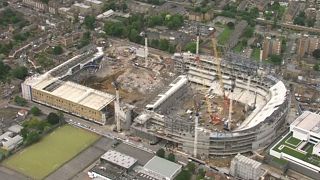 With the end of the 2016/17 English Premier League season demolition work at Tottenham Hotspur's White Hart Lane stadium has been stepped up.
Aerial views from a helicopter on Tuesday (May 30) showed mechanical diggers churning up the old stadium's pitch and demolition of old stands beginning.
The new stadium is due to be ready in time for the 2018/19 season with Tottenham playing at Wembley Stadium for their 2017/18 home games.
Work on the new stadium has been taking place for two years next to the old stadium. Once the old stadium and stands are destroyed the second half of the new stadium can be built.
The innovative new stadium is being constructed to give the U.S. National Football League (NFL) a purpose-built ground in London. The NFL pitch will be permanent with the Premier League pitch above it. The turf pitch will be retractable, sliding away in three sections to be parked underneath the stands during an NFL game.
Capacity at the stadium will be over 61,000 with a single tier end stand that allows 17,000 people to be seated together. The old White Hart Lane capacity was just over 32,000.
Tottenham are contracted to host two NFL games a season with two teams flying in from the USA for the fixture.
In the past such matches have been staged at Wembley and Twickenham with considerable difficulty, needing artificial turf and some seating removed.
The new Tottenham stadium will mean a dedicated artificial pitch and perfect sight-lines are in place for an NFL game with minimal changes required.