Olympic fencing champions clinch victory in Bogota Grand Prix
Comments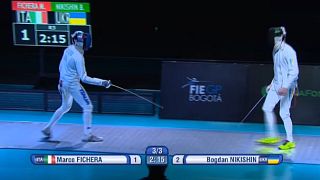 More than 200 of the world's best fencing athletes competed this weekend in Colombia at the 2017 Bogota Men's and Women's Epee Grand Prix.
Bogdan Nikishin of Ukraine took the men's gold medal – a second Grand Prix for the 37-year old, who won last year in Rio. He faced Italy's Marco Fichera in a low-scoring final match 7-3. For Fichera, the silver medal is a best-ever win at this level.
In the women's event, it was Hungarian Olympic gold medallist Emese Szasz-Kovacs who scored victory. She defeated Man Wai Vivian Kong of Hong Kong in a close final, finishing 15-13. In another close finish, Kovacs had won 10-9 against Olympian and previous Grand Prix winner Shin A Lam of Korea in the semi-finals.
One of nine world Grand Prix events sponsored by the International Fencing Federation, this is the eighth in a series leading to the Senior World Fencing Championships this July in Leipzig, Germany.