Macron holds 'frank exchange' talks with Putin
Comments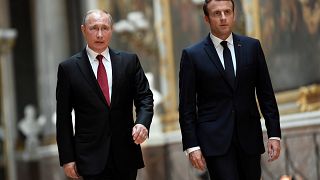 President Emmanuel Macron has warned that France would respond immediately to any use of chemical weapons in Syria. It was part of what he called a "frank exchange " with President Vladimir Putin when he welcomed him to Versailles.
Despite being on different sides in the war, Macron also accepted representatives of the Syrian leader should be at future talks.
"It is essential to discuss with all parties present, in fact with all stakeholders in the Syrian conflict including the representatives of Mr. Bashir al-Assad."
After their talks in Versailles, French President Macron hit out at Russian media, Putin denied hacking https://t.co/YE2JDZmdOt via Reuters</a> <a href="https://t.co/24h7PAi15H">pic.twitter.com/24h7PAi15H</a></p>— Michel Rose (MichelReuters) May 29, 2017
The Putin visit is being seen as an opportunity to re-set recently frosty relations over alleged political meddling by Moscow in the French elections. But following talks ill feeling at the press conference came to the surface over issues such as Ukraine.
"You have asked how sanctions against Russia will help in the resolution of the crisis in Ukraine's southeast. They will not. So I appeal to you as well as to the representatives of French media – you should fight for the lifting of all restrictions in the global economy," said President Putin.
Versailles was chosen for the meeting because an exhibition dedicated to Tsar Peter the Great is opening there.
The two leaders later visited some of its exhibits. Afterwards Macon said the talks had been "cordial but not innocent".