Police release new images of Manchester bomber
Comments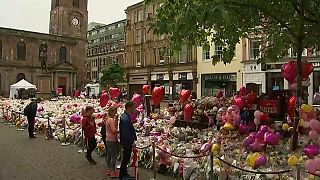 Police have released new CCTV images of Manchester bomber, Salman Abedi, as part of an appeal for information on his movements since his return to the UK, on 18 May.
It is not known when and where the images were taken.
11 people are in custody in relation to the attack so far, with raids ongoing in some neighbourhoods.
Prime Minister Theresa May said that significant police activity over a 24-hour period had contributed to the decision to reduce the threat level in the UK from critical to severe, meaning that an attack was still highly likely.
The PM has announced the terror threat level has now been changed from critical to severe. Watch her statement. pic.twitter.com/iQMNgEnuEz

— UK Prime Minister (@Number10gov) May 27, 2017
As armed forces scale back their presence on British streets, members of the public have been leaving tributes to the victims of the bombing.
Seven children were amongst the 22 who died in the suicide blast, which was timed to coincide with the end of a major concert by Ariana Grande.
They were remembered in prayers led by the Bishop of Manchester, David Walker, on Sunday.