Trump meets EU and NATO leaders in Brussels
Comments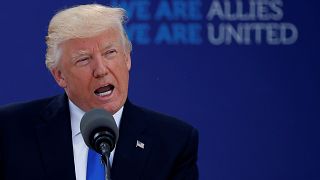 US President Trump has visited Brussels, and met with key EU and NATO figures. He is there to attend Thursday's NATO leader's summit.
He met first with newly elected French President Macron. Pictures of this encounter have sparked a reaction on social media, with users pointing out that Trump appears visibly uncomfortable in Macron's tight grip.
Macron's handshake looks intense pic.twitter.com/6stLPxwISZ

— Gary He (@garyhe) May 25, 2017
Trump himself has previously been criticised for what appear to be aggressive handshakes with world leaders. Many saw this encounter with Japanese PM Shinzo Abe as awkward at best.
Hahahhahahaa RT TheDailyShow</a>: Trump and Japanese PM Shinzō Abe's EPIC handshake. <a href="https://t.co/LJm2BraOxR">pic.twitter.com/LJm2BraOxR</a></p>— Karlina (karlinalee) February 14, 2017
Trump then met with NATO chief Jens Stoltenberg, who showed him the new NATO building.
After meeting with Stoltenberg, Trump met with European Commission leader Jean Claude Juncker, and European Council President Donald Tusk.
They introduced Trump to European Parliament President Tajani, and Foreign Affairs chief Federica Mogherini.
Trump addressed NATO leaders, and commented on the cost of new NATO headquarters. He also said his allies, who were stood in front of him, should spend more on collective defence.
Some of their reactions were described by a BBC reporter as akin to school children being told off for misbehaving.
Speaking in front of NATO ally leaders, Pres. Trump says the allies must spend more for collective NATO defense. pic.twitter.com/cWErNn8bib

—

NBC

Nightly News (@NBCNightlyNews) May 25, 2017
Before the NATO leaders' summit, Trump was pictured pushing past Montenegrin PM Duško Marković. Montenegro is in the final stages of talks to become the 29th NATO member state.
Finally, President Trump was pictured talking to UK Prime Minister May at the NATO 'family photo'. May had previously said she would question the president over leaked security information, which UK police had shared with US authorities after the Manchester attack.