Poet Tony Walsh gives rousing performance at Manchester vigil
Comments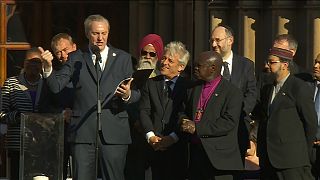 Local poet Tony Walsh yesterday (May 23) performed at a vigil in Manchester city centre after a bomb attack claimed the lives of 22 people at an Ariana Grande concert.
The performance artist recited his poem "This Is The Place" to a packed crowd.
Wrote this in 2015. Like Manchester, it's about music&sport& joy&community &friendship&family&love& solidarity.https://t.co/7xrsG6HDYG

— Tony Walsh (@LongfellaPoet) May 23, 2017
Lines such as "there's (are) hard times again in these streets of our city, but we won't take defeat and we don't want your pity," and "this is the place where we stand strong together with a smile on our face, Mancunians forever," rang particularly true and garnered applause from spectators after Sunday's events.