Dozens of toddlers feared dead after boat capsizes
Comments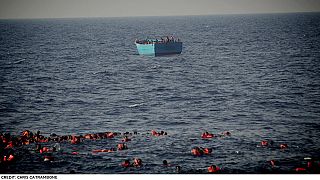 Thirty-one migrants, many of them toddlers, drowned after a migrant boat capsized off the coast of Libya.
The vessel listed suddenly sending 200 people tumbling into the Mediterranean Sea, according to the Italian Coast Guard.
NGO chiefs said it was a "real-life tragedy unfolding on Europe's doorstep".
Chris Catrambone, founder of rescue group MOAS, said rescuers had been frantically trying to open a locked hold on a wooden boat that contained hundreds of migrants.
He said 31 bodies had been recovered from the water and that many of them were toddlers.
The capsized boat was one of several spotted off the coast of Libya.
The coast guard said about 1,700 people were packed into about 15 vessels.
No words… pic.twitter.com/yulVEHb0dO

— Chris Catrambone (@cpcatrambone) May 24, 2017
More than 1,300 people have died this year on the world's most dangerous crossing for migrants fleeing poverty and war across Africa and the Middle East.
In the past week, more than 7,000 migrants have been plucked from unsafe boats in international waters off the western coast of Libya, where people smugglers operate with impunity.
Despite efforts by Italy and the European Union to bolster the Tripoli-based coast guard and funnel training and equipment to fight trafficking to the U.N.-backed government, record numbers of migrants are coming this year.
More than 50,000 migrants have been rescued at sea and brought to Italy so far, a 46 percent increase on the same period of last year, the Interior Ministry said this week.