What's next for Europe? Live from the European Business Summit
Comments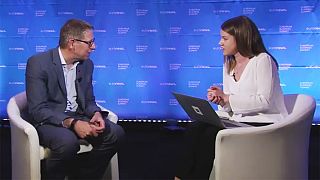 The European Business Summit is an annual event in Brussels that aims to bridge the worlds of politics and business. The forum attracts more than 1,500 participants from over 60 countries, including European Commissioners, Heads of State, CEOs and international financing institutions.
Euronews reporter Oleksandra Vakulina met some of the key players and asked some of your questions.
Amit Bajaj, the European CEO for Tata Consultancy services explains how innovation is driven by the rise of AI and IoT and answers the question: how can we secure the future of the European technology scene?
Doru Frantescu, Director at Votewatch looks to the German election in September and discusses the first forecasts for the next European election in 2019
Markus Beyrer, Director General of BusinessEurope relects on the impact of the French election for businesses, gives his view on improving business morale in Europe and touches on reforms to the labour market.
Michael Bruter, Professor of Political Science and European Politics on how the attack in Manchester will change the tone of the UK election campaign and Brexit talks. He also discusses the divisive effect of the Brexit referendum.
Robert Baker, Senior Partner and Global Client Director at Mercer discusses gender inequality, the pay gap and a lack of gender balanced leadership.