Defiant North Korea says missile tests are self-defence
Comments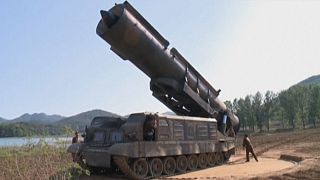 Defiant in the face of international condemnation, North Korea said on Tuesday that its recent missile tests are a legitimate act of self-defence by a "fully-fledged nuclear power".
A diplomat from the isolated nation told a UN Disarmament Conference in Geneva that Pyongyang's tests are not against international law and that the US is responsible for aggravating the situation on the Korean peninsula.
The North says it successfully tested what it called an intermediate-range ballistic missile on Sunday – its second test in a week.
Amid rising tension, South Korea's military fired warning shots at a suspected drone from North Korea on Tuesday.
Also on Tuesday, American Defence Intelligence Agency Director, Lieutenant General Vincent Stewart, told a Senate hearing that Pyongyang is on a clear path to obtaining a nuclear-armed missile capable of striking the US.
North Korea, if left unchecked, on 'inevitable' path to nuclear ICBM: U.S. https://t.co/hsMKqPv7PR

— Reuters Top News (@Reuters) 23 mai 2017
with Reuters