Relics of St Nicholas visited by thousands of worshipers in Moscow
Comments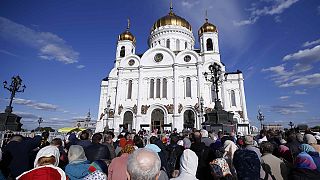 Thousands of people from all over Russia have gathered at Moscow's Christ the Saviour cathedral to visit the relics of St. Nicholas, one of the Russian Orthodox Church's most revered figures.
The remains will be displayed in the Moscow cathedral until mid-June before being moved to St. Petersburg. They will be returned to the Bari, Italy in July. Both cities are expecting crowds of faithful to visit the relics.
The agreement to send the remains to Russia was made in last year's meeting between Pope Francis and Patriarch Kirill – the first meeting of the heads of the Russian and Roman Catholic churches.
Nicholas was the Bishop of Myra, now the Turkish city of Demre.
Most of his relics were taken to Bari in 1087.