Iconic US circus stages final show
Comments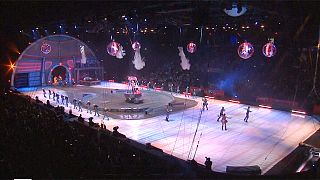 The curtain has finally fallen on one of the world's oldest and most famous circus companies.
Dubbed ''The Greatest Show on Earth'' the Ringling Bros and Barnum and Bailey circus performed its final three shows in New York on Sunday.
It is estimated about 250 million people have seen the iconic American spectacle during its near 150 year reign.
"It's sad. It's awesome, but sad. It's really surreal. She was just crying on the way out saying, 'Mommy, why did it have to close,'' one woman said.
"The last time I was here I was eight years old. I am 43 now. So I wanted to make sure that I came out one more time with the kids. To see it for the last time," said another man.
The circus was forced to close, mainly because of declining ticket sales and high operating costs.
But not everyone is unhappy at Ringling Bros' closure. Animal rights campaigners – who have long accused the circus of cruelty – have hailed its demise