At least 3 climbers die on Mount Everest
Comments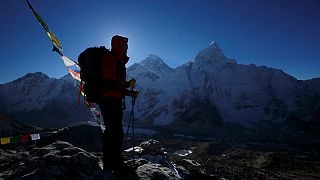 Three climbers have died on Mount Everest and another is missing in a busy and tragic weekend on the world's highest mountain, according to officials and expedition organisers.
An American climber died near the summit and an Indian climber is missing after heading down from the top following a successful ascent, expedition organisers said.
Roland Yearwood, 50, from Georgiana in the US state of Alabama, died on Sunday but details were not immediately known, according to a local expedition agency worker.
Indian climber Ravi Kumar fell sick on his way down from the summit on Saturday and did not make it to the nearest camp, though his accompanying Nepalese Sherpa guide did reach the camp, said Thupden Sherpa of Arun Treks and Expedition.
The guide was sick but had managed to drag himself to the camp at South Col,Sherpa said, later adding that the guide had frostbite and was receiving oxygen.
A Slovak climber Vladimir Strba, 50, also died on Everest on Sunday, according to a Tourism Ministry official. His body was brought to the South Col camp.
Australian climber Francesco Enrico Marchetti, 54, from Queensland, died on the Chinese side of the mountain, according to the Himalayan Times newspaper. Other details were not available.
AP