Venezuelans mark 50 days of anti-government protests
Comments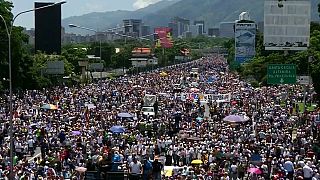 Hundreds of thousands of Venezuelans have filled the streets, to mark 50 days of demonstrations against the government of President Nicolas Maduro.
At least 46 people have been killed in the unrest.
Protesters blame the government for soaring inflation, food and medicine shortages and a crackdown on human rights.
"These 50 days have practically been a massacre against the people of Venezuela," said de-facto opposition leader Henrique Capriles, who led a march in Caracas.
"I say, on day 50, amid more repression, there is more resistance and more fight for Venezuela."
As the turmoil continues, the US has imposed sanctions on members of Venezuela's Supreme Court.
Donald Trump has described the country's humanitarian situation as a "disgrace to humanity." Maduro has responded, telling Trump to get his "dirty hands" out of the country's affairs.