Dozens arrested as Buenaventura strike turns violent
Comments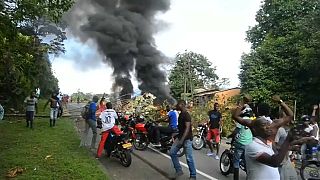 Reports suggest at least 80 people have been arrested in the Colombian city of Buenaventura after a days-long and largely peaceful strike turned violent.
Local media reports at least one person died in the fracas and ten police officers were injured.
Looting and vandalism followed in the Pacific port city as anger mounted over a lack of access to basic amenities, such as running water.
The government said it respected the peaceful protests, which were largely calling for more social investment in Buenaventura, but warned it would not tolerate violence.