New Orleans removes last Confederate monument
Comments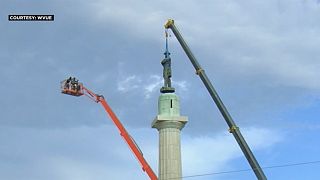 The US city of New Orleans has removed the last of four high-profile monuments honouring leaders of the Confederacy.
The statues, including that of General Robert E. Lee which was taken away on Friday, were seen as racially offensive.
Most of a crowd of about 200 people cheered as a crane was used to lift the bronze figure of Lee from a marble column.
Unlike at a removal earlier this month, there were no clashes between supporters and opponents of the statues, other than shouted taunts.
Statue of Robert E. Lee, the last of the Confederate monuments, removed in New Orleans. https://t.co/N2yKlMj6Xvpic.twitter.com/FJNEEfXqs6

— This Week (@ThisWeekABC) 20 mai 2017
As in all of the previous removals, workers wore bulletproof vests, long sleeves to disguise their skin colour and face coverings to shield their identity.
The Confederacy was made up of states that attempted to preserve slavery in the American south and secede from the United States in the Civil War of the 1860s.
New Orleans Mayor Mitch Landrieu has said the monuments were out of step with a modern city that embraces people of all races, while acknowledging that New Orleans was also once one of the biggest slave markets in America.
with Reuters