Judo Grand Slam event in Ekaterinburg sets stage for world championships
Comments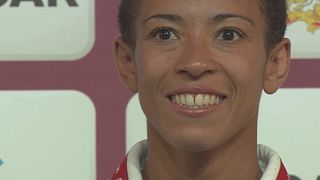 Panama's Myriam Roper is the Woman of the Day at the IJF World tour in Ekatarinburg in Russia for the third grand slam of the year, and with just 100 days to go to the world championships.
Roper won her country's first-ever gold in the under-57 kilo class.
After beating Mongolian opposition in the semi-final, Roper faced the 2014 world champion Nae Udaka from Japan. An Ippon decided the bout in Roper's favour.
"I'm really proud of my judo today and I'm really happy to represent Panama now, my father's country and… yeah… winning the first ever medal for Panama in directly the gold one is… I can't describe my feelings," she said.
Man of the Day was the double Grand Slam and World Masters champion Soichi Hashimoto from Japan. In the -73kg category he maintained his incredible unbeaten form. No-one has bested the Japanese master since 2015.
The world number two took his third Grand Slam gold with a win over Brazil's surprise finalist Marcelo Contini.
In the under 60 kilos category Tokyo Grand Slam champion Ryuju Nagayama scored three waza aris on his way to beating Georgia's Amiran Papinashvili.
In the under 51 kilos final Brazil's Erika Miranda sent her coach onto cloud nine with her win against Alesya Kuznetsova, while Germany's Martina Trajdos beat Russia's Ekaterina Valkova in the under 63 kilos class.