Japan coastguard resumes drills as tensions rise
Comments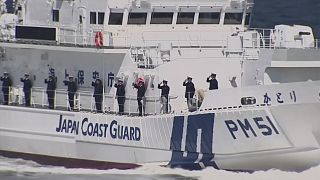 Japan flexed its military muscle on Saturday, as regional tensions multiply.
The Japanese coastguard resumed annual drills in Tokyo Bay, after a five year pause.
A mock rescue scenario was staged just days after a very real flare-up with regional rival China.
On Thursday, Japan scrambled fighter jets after Chinese coastguard vessels entered what Tokyo considers its territorial waters near disputed East China Sea islands and a drone-like object flew near one ship, Japan said.
Japan scrambles warplanes after Chinese coastguard ships and a drone enter disputed territory in the East China Sea https://t.co/c284LPj8wl

— CNN International (@cnni) 19 mai 2017
As Saturday's exercises unfolded, Japan's Minister of Land, Infrastructure and Transport, Keiichi Ishii, said: "The role of the Japanese Coastguard is becoming all the more important with the surveillance of waters around the Senkaku islands, and dealing with repeated missile launches by North Korea."
The Japanese and Chinese have long been at loggerheads over the tiny, uninhabited islands, called the Diaoyu by China. Controlled by Japan, they are claimed by Beijing.
Addressing other security issues, Japan's maritime drills on Saturday also included anti-extremist operations.