Voting extended amid high turnout in tight Iran election
Comments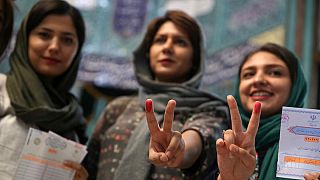 Iranians turned out in droves to vote in an unexpectedly tight presidential election on Friday.
Today people are voting to say that Iran is still standing

Iranian Vice President
Shortly before polls were due to close, voting was extended by at least four hours
because many people were still waiting to cast their ballots, state television reported.
The stakes are high in a country just emerging from international isolation.
Yet the economic benefits that have come with the removal of nuclear-related sanctions have so far been limited.
"People's concern is clear," said Defence Minister Hossein Dehghan.
"They want peace, security, growth and development.The nation doesn't want the young to be unemployed and it wants the ominous shadow of poverty gone from all parts of society."
Iran polls kept open as 'huge rush' turns out to vote in presidential election https://t.co/cj8pVBEQiHpic.twitter.com/5bRP5BUB6l

— Telegraph News (@TelegraphNews) 19 mai 2017
The poll is seen as a duel between the two leading candidates, incumbent President Hassan Rouhani, who wants to normalise ties with the West, and hardliner Ebrahim Raisi, a protege of supreme leader Ali Khamenei.
Democracy and social freedoms are a key issue almost 40 years after the Islamic Revolution. And so is national pride, with the world looking on.
"Today people are voting to say that Iran is still standing," said Vice President Masoumeh Ebtekar.
"Iranians are still here. They are still here to support the development and improvement of their country. Voting is a sign of national integrity, unity and national power. By participating in the election, all groups of society with different religions and ethnicities are coming together."
Big voter turnout shows Iranians collective will: Analyst https://t.co/S9O8uiNXDj#IranElections2017pic.twitter.com/mtajUEoXWG

— Press TV (@PressTV) 19 mai 2017
So much for those in power but what do ordinary Iranians think?
"What matters to me is for people to be respected so that we can live easily," said one woman voting in Tehran.
"We have had a hard life, in our childhood, during the war, and even after that. But we hope that the result appeals to the young."
Results from the presidential poll will be announced gradually, according to Euronews' correspondent in Iran's capital, Javad Montazeri.
In this way, he explained, the people's choice will be unveiled step by step, revealing whether Iranian voters have opted to accompany Rouhani along the path of moderation or choose an entirely new direction.
with Reuters